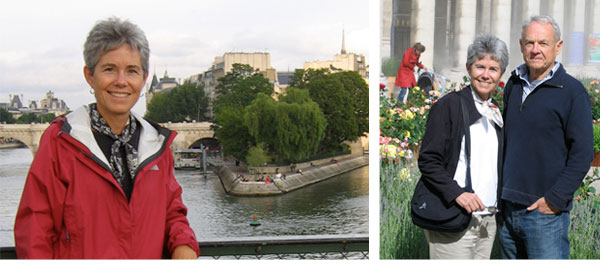 I didnít start out to create a Paris website. It just evolved. Like many people, Iíve had a long love affair with Paris. I first visited there in 1970 and was absolutely charmed by the place. During the years I was working (as a local government manager in the San Francisco Bay area) I tried to get back to Paris as often as I could. More recently, since retiring, Iíve been able to visit often.
I love walking the streets of the city. Iíve taken thousands of photos including all the photos in my website and walking guides. Iíve gone on lots of guided walking tours. Iíve read every Paris guidebook, history book, and architecture book I could get my hands on. And I was fortunate enough to take a fantastic course, in Paris, on Paris history and architecture, taught by French architect Pierre David.
Over the years, Iíve always been intrigued by the idea of creating walking tours organized by century. As I walked the streets of the city, I found myself designing tour routes in my mind. Then I started doing some research, writing down ideas, and testing out routes. By last year, six walking tour guides had taken shape.
Although Iíve decided to share these "history walks" with family, friends, and fellow travelers, the projects leading to them were really carried out for my own edification and entertainment. I've had a great time. I do hope you too will have fun trying some of these walks. They remain a work in progress. Please let me know if you have any additions, corrections, or ideas for improving them. Iíd love to hear from you.
Ann Branston


Former college roommate Jane Fisher and her husband, travel writer Tom Brosnahan (www.paristravelplanner.com) gave me the idea of putting my walking tours on a website and advice on how to do so. Graphics designer Ken Mak designed web pages and walking guide covers for me and provided technical assistance. Adam Davis, a geography student at the University of California in Berkeley, made maps. Sara Evinger helped me proofread all the walking guides. And Dail Phillips was my always supportive travel companion and (usually) willing walking companion on our many visits to Paris. Thank you all! I wouldn't have and couldn't have done this website without you.